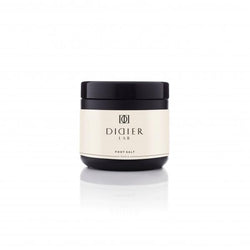 Foot  salt "Didier Lab", 500g
Sea salt with goat's milk perfectly softens water and feet. This remedy should be used for baths before a pedicure.
Active ingredient -  Goat's milk is mentioned in Hippocrates' notes, named as a healing essence. It is a great moisturizer for dry and aging skin. It is rich in vitamins - A, B1, B2, B5, B12, D, E, C, unsaturated fatty acids, coenzyme Q10, trace elements: potassium, magnesium, zinc, sulfur, calcium.
Sea salt - reduces joint pain, promotes blood circulation, provides a disinfectant effect. It is one of the most effective components of skin and nail care

This product is ideal for feet, but can be used for hand and body baths.

Purpose:
excessive foot sweating

cracked skin of feet

scaly foot skin

before the pedicure procedure.
Operation:
Softens scaly foot skin, various types of scabs and cracked skin.

Acts as a disinfectant

Strengthens the skin and reduces the risk of cracking, sweating.
Capacity: 500 ml