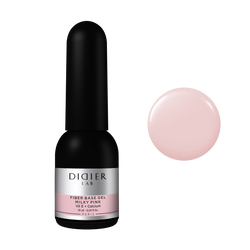 Fiber Base Gel - Innovative Super-texture technology. Strong and elastic gel with synthetic fiberglass particles. The tool has nail-binding and nail-strengthening properties. The synthetic Nylon fibers contained are evenly distributed and perform the main function of nail reinforcement-bonding throughout the wear. Contains vitamin E for the restoration of weak, brittle, and weakened nails. Calcium (Ca) is necessary to maintain and ensure nail strength. They are designed for all types of nails, especially problematic ones.

Functions:
Nail reinforcement

Nail reconstruction

Extensions (as an additional feature if required)

Modeling technique "without filing"

Masking (depending on the shade you choose)

Soluble

Removal milling/filing
Texture features:
Nail strengthening 
Reconstruction of the nail 
Modeling 
Extension (in addition if necessary) 
Modeling technique without filing 
Coverage (depending on the chosen shade) 
Dissolves in acetone
Can be removed with a file/sander
Capacity: 10 ml

Country of Origin USA 
Prepare the nail plate - do your usual manicure and shape the nail form.
Remove excess moisture and oils using the "Didier Lab" Dehydrator.
If needed, apply the Acid free Bond, Extra Bond Nail Repair or Acid Primer to help the gel adhere to your nail.
Apply the first layer of base coat. Cure for 90 s. LED/ 2 min UV .
Apply a colored gel polish of your choice. Cure with LED lamp 60s / UV 2min.
Apply a top coat of your choice. Cure with LED lamp 60s / UV 2min.
Roughen the sealing layer with a nail file.
Soak the nail wraps with acetone and wrap tightly around the nails. Leave on for about 10 minutes.
Use a wooden stick to gently push the nail polish down.
Remove the rest of the product with a file.
The UV nail polish can also be removed with a cutter, but you have to be gentle and careful to avoid thinning of the fingernails.
DI-HEMA TRIMETHYLHEXYL DICARBAMATE, HEMA, Isobornyl Methaclrylate, Cellulose Acetate Butyrate, Hydroxycyclohexyl phenyl ketone, Bis(methacryloyloxyethyl) phosphate, Tocopherol, D-Calcium Pantothenate, p-hydroxyanisole, Hydroquinone, Titanium dioxide/Cl 77891.