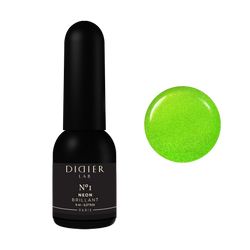 Season's hit - Brillant Neon Collection now available! The 7 neon, light-reflecting gel polish colours will leave no one indifferent!
Neon Brillant gel polishes feature two amazing effects - a shimmer in natural light and a glossy effect of neon colours under neon lighting.
The Brillant Neon collection offers 7 vibrant shades that will beautifully adorn your nails.
Suitable not only for everyday wear but also for special occasions.
A polish with 2 effects - light-reflecting and neon colour effect polish.
Thick and highly pigmented.
Enriched with platinum pigments, this polish is perfect for full nail coverage or various design choices.
Self-levelling, only one coat is enough for application.
After performing a manicure, apply "Didier Lab" "Dehydrator" to the nail plate, then select a base according to the condition of the nail. Apply 1 or, if necessary, 2 thin layers of gel polish
Acrylates Copolymer, Cyclohexyl, Methacrylate/ Ethylhexyl, Methacrylate Copolymer, Ethylhexyl Dimethyl PABA, May contain : CI45430, CI77266, CI77120, CI19140, CI77510, Sodium Silicate