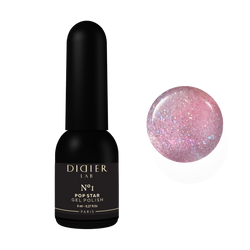 Shine like a star with the latest Pop Star gel polishes!
Pop Star gel polishes are enriched with various-sized iridescent and even holographic glitter, making your nails appear adorned with multicoloured gemstones. The sparkling particles change their colours and intensity with every movement or different lighting, making every gesture of your hand look enchanting.
An ideal choice for both everyday wear and special occasions
Subtle and enchanting colours with luxurious glitter
Long-lasting wear without chipping or peeling
Strong pigmentation, flawless coverage without bounced glitter particles
After performing a manicure, apply "Didier Lab" "Dehydrator" to the nail plate, then select a base according to the condition of the nail. Apply 1 or, if necessary, 2 thin layers of gel polish. Polymerization - 60 sec. LED / 120 sec. UV. Cure with the chosen top coat nail polish layer. Polymerization - 60 sec. LED / 120 sec. UV.
Removal - dissolve in a nail polish remover/freza, depending on the instructions of the used base.
INGREDIENTS (INCI): Acrylates Copolymer, 2-Hydroxyethyl Methacrylate, diphenyl(2,4,6-trimethylbenzoyl) phosphine oxide, hydroxycyclohexyl phenyl ketone, N,N'ethlenedi ( steramide), CI 45430, CI 77266, I77120, CI 19140, CI 42090..