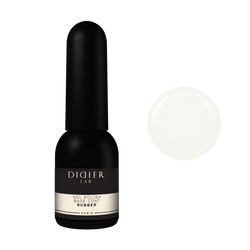 The Rubber Base has a unique rubber-based formula that established this product as one of the highest quality base coats in the market!
This base is thicker than the usual consistency of other gel polish bases, which allows it to be easy to work with, form the nail, and reconstruct the nail while maintaining the natural arch of the C-shaped nail.
With a guaranteed wearing time of 2-3 weeks, this Rubber Base is very elastic, doesn't shrink or crack, and remains unchanged throughout the wearing time. It also dissolves very well and there is no need to use files or nail drills.
Prepare the nail plate - do your usual manicure and shape the nail form.
Remove excess moisture and oils using the "Didier Lab" Dehydrator.
If needed, apply the Acid free Bond, Extra Bond Nail Repair or Acid Primer to help the gel adhere to your nail.
Apply the first layer of base coat. Cure for 90 s. LED/ 2 min UV .
Apply a colored gel polish of your choice. Cure with LED lamp 60s / UV 2min.
Apply a top coat of your choice. Cure with LED lamp 60s / UV 2min.
Roughen the sealing layer with a nail file.


Soak the nail wraps with acetone and wrap tightly around the nails. Leave on for about 10 minutes.


Use a wooden stick to gently push the nail polish down.


Remove the rest of the product with a file.


The UV nail polish can also be removed with a cutter, but you have to be gentle and careful to a void thinning of the fingernails.
Di-Hema trimethylhexyl dicarbamate*, HEMA, Isobornyl methacrylate, Cellulose Acetate Butyrate, Hydroxycyclohexyl phenyl ketone, Trimethylbenzoyl diphenylphosphine oxide, Glycol HEMA-methacrylate, Bis(methacryloyloxyethyl) phosphate, p-hydroxyanisole, Hydroquinone
gallery + allProductReviews