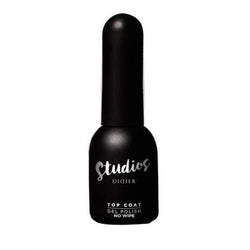 Gel Polish top coat.
Special no-wipe upper gel polish layer. Very shiny and resistant to mechanical damage. It evenly distributes and fills in any irregularities. Excellent tool for rub-in pigments, chrome effects, and other gel art decorations.
Characteristics:
- High Gloss;
- Resistant to mechanical damage;
- Smooths irregularities;
- Ideal for rubbing in pigments.
HOW TO USE
Cure under light - 30-60 sec. LED / 2 min. UV
Apply top coat and let it dry under LED lamp for 60 sec or UV lamp for 2 min.


Apply cuticle oil. The nail oil helps to strengthen nails and cuticles in the long term.


Use the hand cream - increases skin elasticity.
Roughen the sealing layer with a nail file.


Soak the nail wraps with acetone and wrap tightly around the nails. Leave on for about 10 minutes.


Use a wooden stick to gently push the nail polish down.


Remove the rest of the product with a file.


The UV nail polish can also be removed with a cutter, but you have to be gentle and careful to a void thinning of the fingernails.
Di-Hema Trimethylhexyl Dicarbamate, Polyacrilate-15, Phenyl Bis-Phosphine Oxide, Hydroxycyclohexyl Phenyl Ketone, Hema(Hydroxyethyl) Methacrylate.