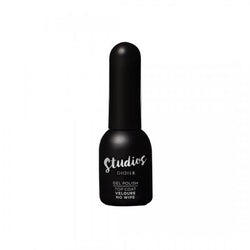 Top coat for semi-permanent nail polish.
No-wipe semi-permanent varnish top coat that provides a subtle velvet effect to your manicures. 
Applies to all types of gel systems, compatible with LED, UV and CCFL lamps 
Capacity: 8ml 
Apply top coat and let it dry under LED lamp for 60 sec or UV lamp for 2 min.


Apply cuticle oil. The nail oil helps to strengthen nails and cuticles in the long term.


Use the hand cream - increases skin elasticity.
Roughen the sealing layer with a nail file.


Soak the nail wraps with acetone and wrap tightly around the nails. Leave on for about 10 minutes.


Use a wooden stick to gently push the nail polish down.


Remove the rest of the product with a file.


The UV top coat can also be removed with a cutter, but you have to be gentle and careful to a void thinning of the fingernails.
Methacrylic acid, 2-Hydroxyethyl methacrylate, Diphenyl(2,4,6-trimethylbenzoyl)phosphine oxide, N,N'-Ethylenebis(stearamide).